Grey's Anatomy
The first season of the American television medical drama Grey's Anatomy, began airing in the United States on the American Broadcasting Company on March 27, 2005 and concluded on May 22, 2005. The first season introduces the main character, Meredith Grey, as she enrolls in Seattle Grace Hospital's internship program and faces unexpected challenges and surprises. Season one had nine series regulars, six of whom have been part of the main cast ever since. The season initially served as a mid-season replacement for the legal drama Boston Legal, airing in the Sunday night time slot at 10:00, after Desperate Housewives. Although no clip shows have been produced for this season, the events that occur are recapped in "Straight to Heart", a clip-show which aired one week before the winter holiday hiatus of the second season ended. The season was officially released on DVD as two-disc Region 1 box set under the title of Grey's Anatomy: Season One on February 14, 2006 by Buena Vista Home Entertainment. The season's reviews and critiques were generally positive, and the series received several awards and nominations for the cast and crew. The first five episodes of the second season were conceived, written and shot to air as the final five episodes of the first season, but aired during the 2005-2006 season due to the high number of viewers that watched "Who's Zoomin' Who?", the season's highest-rated episode with 22.22 million viewers tuning in.
Episodes 3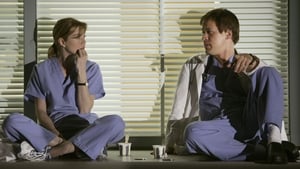 Meet Meredith Grey. Daughter of famous surgeon Ellis Grey and currently recovering from a one-night stand. She shoos away her evening's companion, saying she'll be late for her first day of work. She is a first year intern at Seattle Grace Hospital and is working alongside some colorful characters. Cristina Yang is a highly competitive Stanford graduate who befriends Meredith. George O'Malley is a quirky warm hearted man who learns a lesson or two on his first day. Izzie Stev...
2. The First Cut is the Deepest
The surgical staff tries to be optimistic as a young woman clings to life after a brutal attack. Meanwhile Meredith puts her career on the line to save a newborn in the hospital nursery, and the other interns learn that it takes more than just medical knowledge to be good at their jobs.
3. Winning a Battle, Losing the War
A bike race injures several pedestrians as well as well as participants. One pedestrian is left brain dead. Christina and Issie wish to use his organs for organ donation but with Christina's detachment and Issie's ever hopeful attitude that the man will recover, they will find the organ harvesting process an emotional one. Preston faces feelings of his dislike of organ harvesting - as a surgeon, he likes saving lives; harvesting organs doesn't save the person's life. Geor...
No comments yet!
Be the first to share what you think !